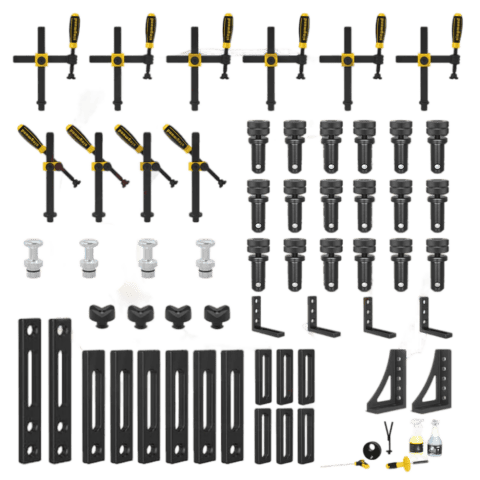 Clamping System
Set 2 – System 22
Clamping set for use with Sigmund tables System 22.
A clamping set is a tool used to secure and hold workpieces in place during machining operations. In the context of Sigmund tables System 22, which are a type of modular workholding system used in precision machining, a clamping set is essential for ensuring accurate and repeatable positioning of workpieces.
The Sigmund System 22 consists of a grid of precisely machined holes on a base plate, onto which modular fixturing components can be mounted. These components include clamps, stops, and supports, which are used to hold and position workpieces during machining.
To use the Sigmund System 22 effectively, a clamping set is needed to secure the workpiece to the base plate. The clamping set typically includes a set of clamps, bolts, and T-slot nuts that are used to attach the workpiece to the base plate.
The clamps are designed to fit into the holes on the base plate, and the T-slot nuts are used to secure the bolts that hold the clamps in place. This allows for a secure and rigid connection between the workpiece and the base plate, which is essential for precision machining operations.
Overall, the use of a clamping set with the Sigmund System 22 is crucial for achieving accurate and repeatable results in precision machining applications.
Set contains
6x 220610.1 – Professional Screw Clamp ‐ burnished
Professional Screw Clamp, enables fast, powerful and exact clamping with a variety of welding elements. Achieve maximum efficiency through time-saving, quick adjustments and effortless disassembly.
4x 220630.1 – Professional Screw Clamp 45°/90° ‐ burnished
The Professional Screw Clamp 45°/90° replaces conventional 45° or 90° screw clamps. This Screw Clamp sets new standards because of its infinitely variable rotatability from 0°-360°.
4x 220645.1 – Vario Prism Ø50 90°/120° with screwed-in collar ‐ burnished
Vario Prism, suitable for both rounded and 45° twisted square pipes with a diameter of up to 50 mm.
18x 220511 – Fast Clamping Bolt without slot double ‐ burnished
This bolt comes without the slot for O-rings. This ensures a smooth surface of the bolt body.The bolt without slot is particularly suitable for clamping aluminum profiles and is also still compatible with the entire Siegmund range. The fast clamping bolt with twistlock is the ideal connecting element between Siegmund components.
4x 220740 – Magnetic Clamping Bolt 60
Magnetical Clamping Bolt, enables fast clamping without bolting or the use of tools. It is suitable for pressure-sensitive parts like thin sheet metal, as well as components where counter holding is not possible, e.g. sheet metal housings that are closed all around.
6x 220410.N – Universal Stop 150 L ‐ nitrided
Universal Stop 150 L, enables precise adjustment range of 0-100 mm for every element through the elongated hole.
6x 220420.N – Universal Stop 225 L ‐ nitrided
Universal Stop 225 L, by combining elongated hole (0-100 mm adjustable range) and system boreholes, it can be firmly fastened or variably adjusted. In addition, it can be used with prisms and adapters.
2x 220426.N – Universal Stop 300 ‐ nitrided
Universal Stop 300, serves as an expansion to the stop surface. Further fixed or variable stop options are created, due to the triple system boreholes and the elongated hole (adjustable range 0-100 mm).
4x 220110.N – Stop and Clamping Square 175 L ‐ nitrided
Stop and Clamping Square 175 L, can be utilized as a multifunctional adjustable angle, by combining system boreholes and elongated hole. This component also functions well as a stop for large parts.
2x 220152.N – Stop and Clamping Square 300 G ‐ nitrided
Stop and Clamping Square 300 G, fixed and variably adjustable due to the combination of system boreholes and elongated hole. It can be used versatilely e.g. as table extension. This element is manufactured of high quality GGG40 ductile cast iron.
1x 22399:
1x 220402.N – Eccentric Stop Ø 60 with M10 thread ‐ nitrided
Eccentric Stops, perfectly suited for infinite adjustment of elements by simply twisting them, with minimum space requirements.
1x 220852 – Hex wrench Size 5
Hex wrench 5, the practical tool to tighten screws quickly and safely. It is an effective support for working with clamping bolts, screw clamps and small universal squares.
1x 220820 – Brush Ø 24 with protecting cover
Brush with a diameter of 24 mm, especially designed for cleaning 22 mm boreholes. Grime can be removed effortlessly with this brush.
1x 220920 – Burner Holder ‐ burnished
Burner Holder, can be positioned in each system borehole and offers an attachment for your welding burner.
1x 000911
1x 000921
Stylus pen for use with the CoWelder remote control panel.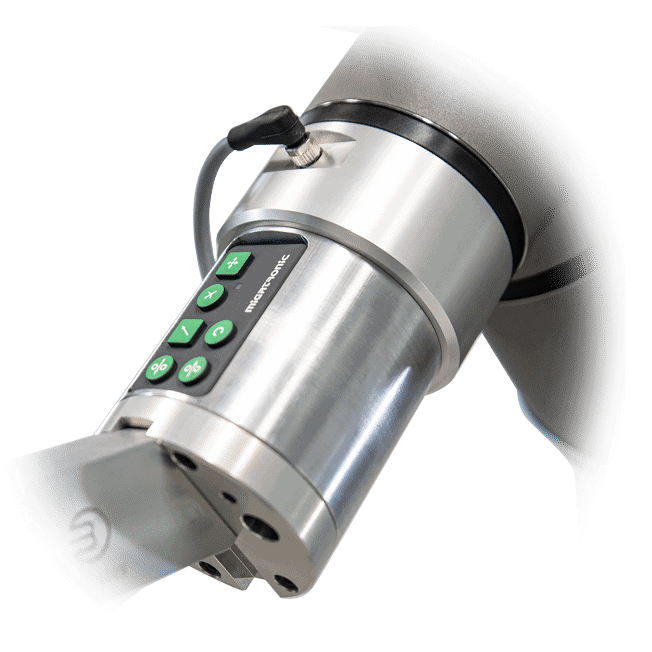 Included with every CoWelder.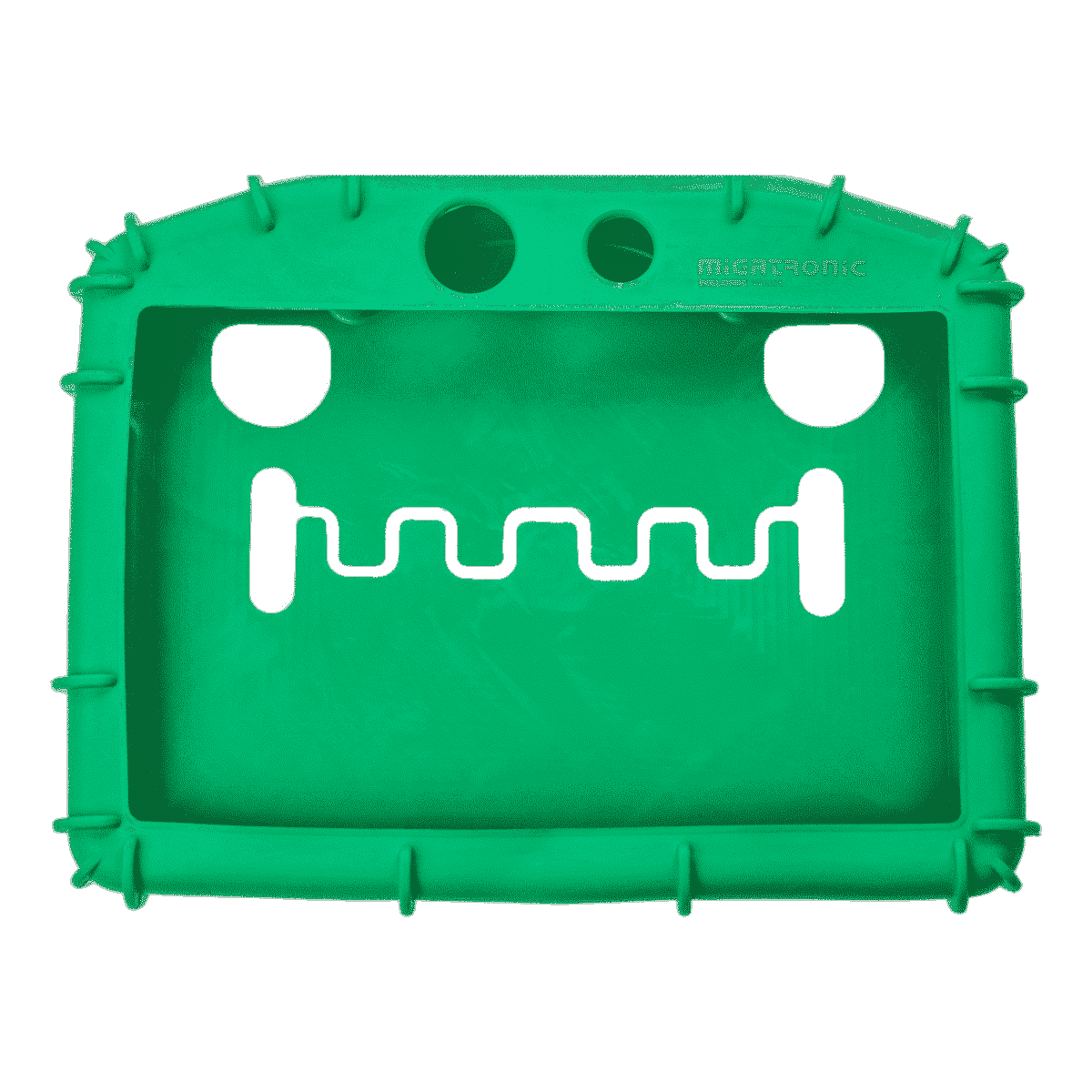 Protect the teach pendant.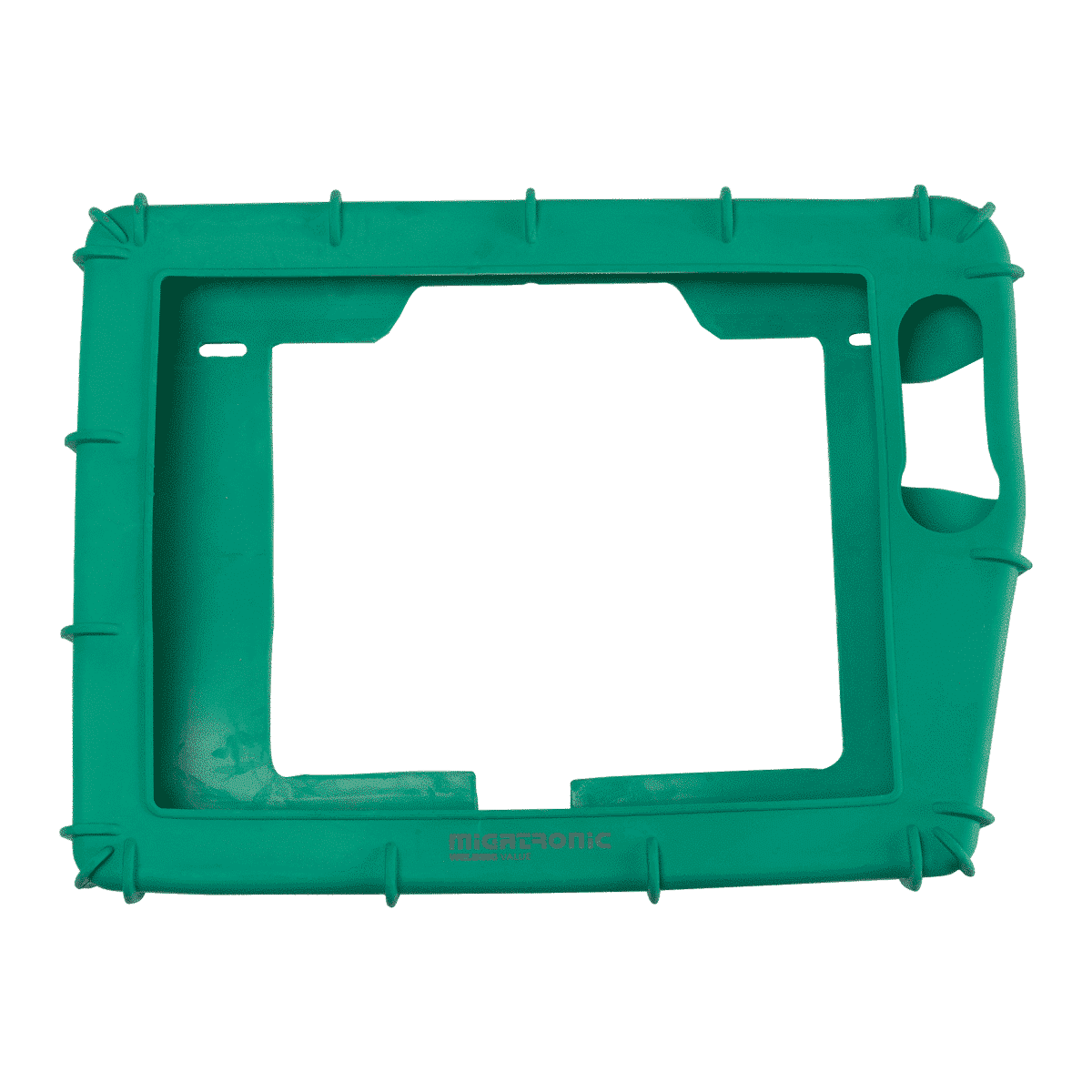 Protect the teach pendant.