A tank truck consists of many different welded components. If many of these are standard components, the processing throughout the production is easier and faster – from the drafting room to the final tank truck.
When VM Tarm integrated CoWelder in the production, they had to look at their existing welded items in a new way. They found out that by redesigning some components, it was possible to extend the selection of standard components, so even more of them would fit their new CoWelder.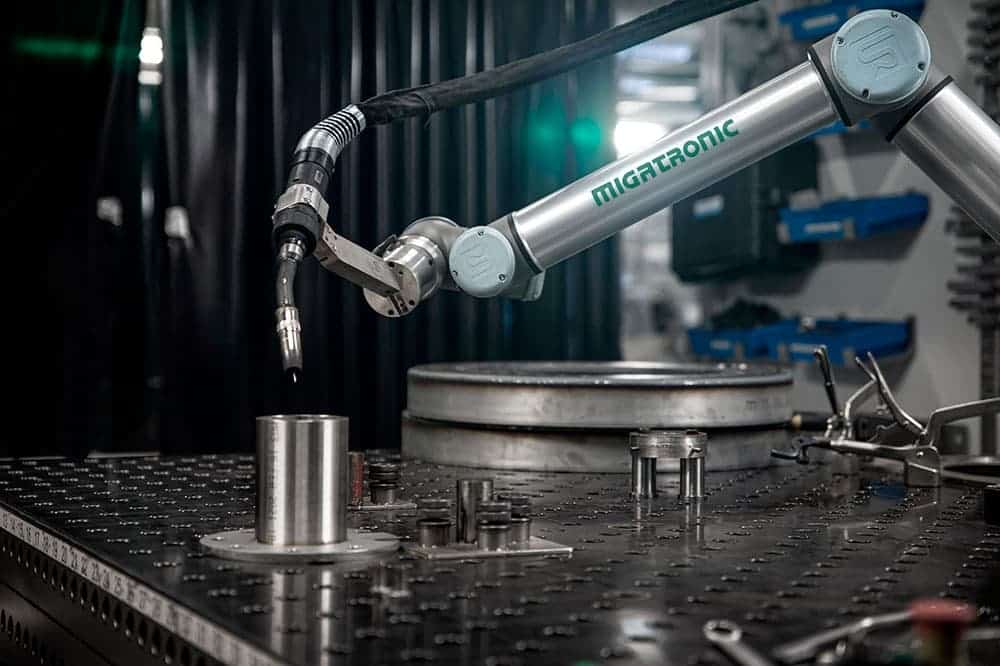 CoWelder creates value for VM Tarm in four ways
1. CoWelder clears up 4 arc hours a day
Most components are quite large with a lot of arc time. The robot is welding for about 4 hours each day. Meanwhile, the operator can carry out others tasks. Most often, he prepares the next components by tack welding its sub-items.
"I have two workstations now. One for the CoWelder and one for tack welding. I go back and forth many times every day. We can finish more components splitting the work between me and the robot." – Teddy Bregnholm, Robot Operator
2. Flexibility makes the production cost-effective
Management recognises that their CoWelder has endless opportunities for welding all kinds of components. The flexibility of the solution makes them able to increase the capacity if they need to.
"We have been able to lower the cost price on some of the components that CoWelder makes. It provides the flexibility we need to make it a cost-effective way of automating our production even though our production series are small." – Karsten Lauridsen, Production Manager
3. High repeatability and a low error rate
The CoWelder welds about 100+ different components, some very often and others very rarely. No matter what, they are all completely identical each time and the error rate is low.
"We punch, bend and cut our sub-items ourselves, so we can be sure that they always fit together. That's why we can let the CoWelder do the welding without hesitating and be sure that components will be completely the same every time." – Lars Pedersen, Foreman
4. Going to work is more fun now
The operator no longer hand-welds the large components. Today, he is free from the routine welds that he had started dreading. Also, he is less exposed to welding smoke and awkward working postures. He honestly reveals that after he started working with the CoWelder, he feels a newfound genuine pleasure of going to work every day.
"I worked as a welder for many years and at some point, my job got dull. It was too much of the same. That is why it was an interesting challenge for me to be included in the CoWelder project. It is safe to say that working with the CoWelder, I rediscovered how fun work can be." – Teddy Bregnholm, Robot Operator
The Operational Perspective
Small batches, large components
All batches are small, but most components are quite large. There are either many weld seams or a few long welds on a component. This releases a lot of time for the operator to carry out other tasks, such as preparing the next components. Some components consists of up to eight different programs on the CoWelder.
"All programs in the CoWelder are named after an article number that matches our components. That makes it easy to find specific programs and place the fixture correctly. This procedure minimises our risk of errors" – Teddy Bregnholm, Robot Operator.